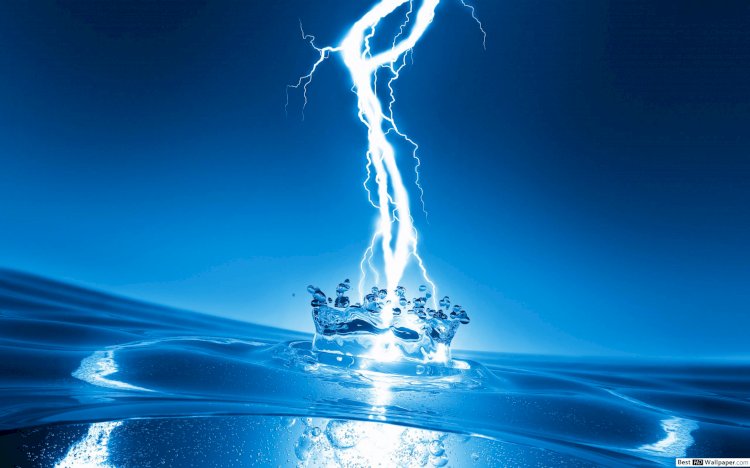 A source: besthdwallpaper.com
How to achieve water to stop conducting electricity?
Water has an electricity property, and it makes it perfectly. This information has long been familiar with absolutely everyone. Also everyone knows that due to this property can be dangerous during a thunderstorm, and only dry hands can be touched to electrical appliances. But is water really to blame?
It turns out that the water molecules themselves are not able to carry out electricity. However, water is a wonderful solvent, which leads to the dissolution of multiple minerals, various substances and other impurities. These impurities are in this fluid and are in its composition, and the electric current is carried out. Natural water always contains a large number of varied impurities, so water in its natural form can conduct a current.
However, to get water that does not have this property is simply simple enough. With the help of modern technologies, it is possible to save this liquid from all the extraneous elements included in its composition, after which the liquid is obtained, which contains only H2O molecules. The water obtained in this way was called distilled. Distilled water exhibits the properties of the dielectric, but the electricity cannot conduct. Such pure liquid is actively used in the fields of technology, medicine and industry. Today you can easily purchase it on any pharmacy or in the auto shop.
A source: jabiki.ru
But not everything is so simple. Distilled water is not always in a fully cleaned state. It is necessary to contact her correctly so that it keeps its properties. Otherwise, many substances will be dissolved in it, which will lead to the resumption of previous properties, that is, water will again carry electrical stakes. All this suggests that in no case cannot forget about the rules of safe work with electrical appliances. It should always be remembered that any water can be conductor of electric flow.